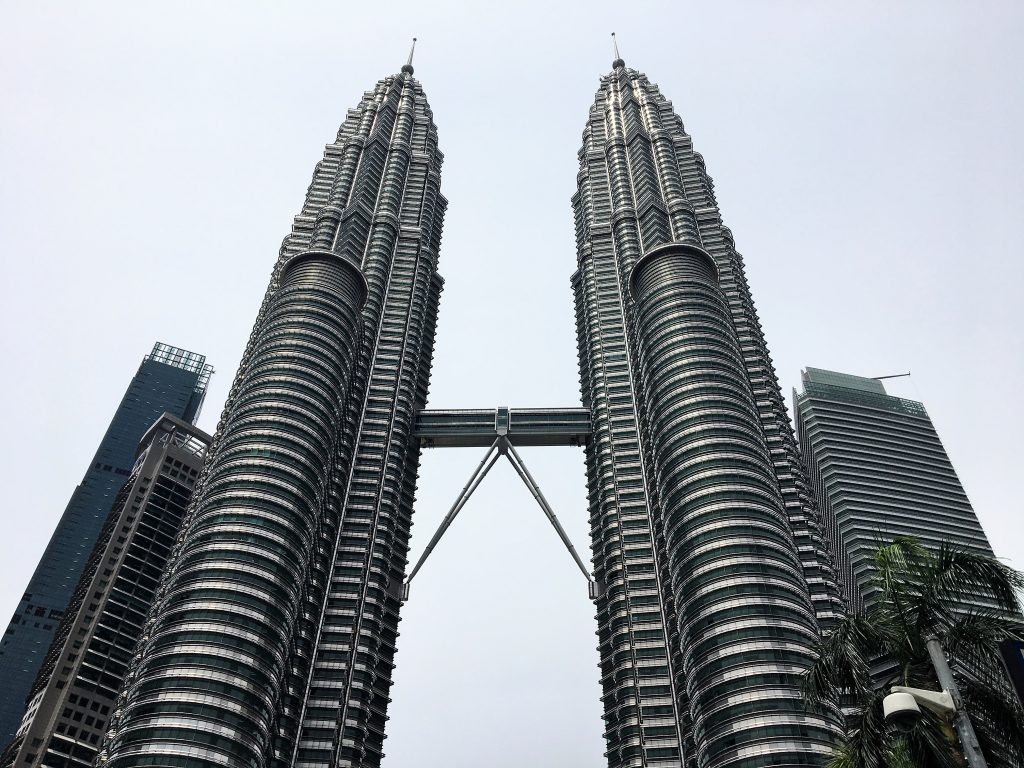 Malaysia was not on my radar until a friend told me she was going there with her family for a vacation. Malaysia? Who goes to Malaysia?!  I remember having to refamiliarize myself with where exactly it was. Just north of Indonesia, partly on a peninsula shared with Thailand and Singapore, and also located partly on the island of Borneo shared with Brunei and Indonesia.  
Why Malaysia?
Fast forward to this year when the boys are I are planning our RTW ('Round the World) Trip. We had some time to spend in a country that would be somewhere in southeast Asia within easy flights of Thailand where we had booked our last weeks of the trip. Where could we go?  I remember my friend telling me about all the things you could do in Malaysia and how inexpensive it was. I figured it would be a pretty cool place to visit.
Our week in Malaysia was fun, definitely cheap, and really allowed me to compare and contrast it's culture with the other cultures I've seen in Asia.
Religion and Cultural Influence
Malaysia is predominantly Islamic in faith at about 62% of the population. There are also Buddhists, Hindus, Christians and various Chinese religions. All of these religions and people form the melting pot of Malaysian culture. Quite a bit like the melting pot of some large American cities. The languages spoken are officially Malaysian and English. However, because there are large ethnic groups of Indians and Chinese, these languages are also spoken by some of the population. The primary schools also instruct in Malay, Tamil and Mandarin. Signs are usually in Malay or English, or both. I have no idea how it is decided which language to use in which cases. 
During our week there, we used car services to get around. Of the dozen or so rides we took, some of our drivers were of Indian heritage, although they would qualify that statement with "3rd generation" or let me know that they had been born and lived in Malaysia all their lives. Another driver was Chinese-Malaysian and the rest were Malay. It seemed important for every driver to tell me of their Malaysian heritage.
Since the Muslim religion dominates, almost all women of Malaysian heritage wear a hijab or al-amira (like a two-piece hijab) and some wear a niqab covering the entire face except the eyes. This is so common that every billboard or screen advertisement with women promoting products has a woman in a hijab. I can't remember seeing any billboards with a woman and uncovered hair. It was really fascinating to me (and beautiful) to see that despite the very large influence of western culture, this one thing has not changed for the women of Malaysia.
One of my drivers was fascinated with the fact that I had been to Morocco. He asked me to compare how it is different from Malaysia. I replied that although both countries are predominantly Muslim, the religion seems to be a larger part of life in Morocco. Not that Malays are not good Muslims, just that each town in Morocco had at least one mosque, which was always the tallest building and easily found.  The call to prayer was broadcast by loudspeaker every day, whereas in Kuala Lumpur, I had only seen a few mosques (maybe because there were so many skyscrapers hiding them) and I never heard a call to prayer, even on the day when we were out in the country. I could hear the cheers from crowds in the bars watching the FIFA World Cup, though, and we were on the 37th floor of a high rise!
I also think that Malaysia is a more cosmopolitan country in general. They have the influence of their largely hi-tech neighbors around them (Singapore and China for example) and people who come to Malaysia to shop and vacation and expect there to be good wifi and gadgets galore.  
Kuala Lumpur seems to combine the tech savvy, flashy, wealthy shopping of Dubai with the laid back atmosphere and conservative Muslim culture of Jordan and Morocco. It also had the intense fascination with anything French that I found to be very prominent in Korea, Singapore and Japan. All t-shirts either have words in French or English on them. The picture of the Eiffel Tower or describing things with French words in advertisements is very common.  The French are the epitome of class and sophistication for many young Asian women, I guess.
Newer, Bigger, Higher
Downtown Kuala Lumpur has acres upon acres of malls, large business centers, and busy, busy streets. I was shocked at how much traffic is in KL. Several car rides were almost an hour long just to go 2 km in the downtown area. The lines of cars on the incoming freeways in the morning indicate that this city of 1.8 million is growing too fast for it's auto capacity. Many drivers told me that most Malaysians own at least one car, many have a motorbike, and some have 3-4 cars!
The amount of construction in Kuala Lumpur was also in line with other large cities I have been to on this trip where economies are doing well. There are more shopping malls going in, more high rise towers being built, and more green areas are planned to rejuvenate the city and keep it moving with the times. Despite some recent scandals, the Malaysians seem very excited about the future. They proudly tout their 5th most visited country in Asia status.
I ended up really liking Malaysia, and except for the insane traffic and often stifling heat, it is a great place to visit. The people are warm and curious, very laid back and welcoming. They strive to make a good impression on visitors, and really enjoy showing off their country and the things they have accomplished. The mix of cultural influences mean that while some things are very familiar, there are also things that can delight and surprise you. It's not going to stay hidden for long.