The two days we spent at the Tokyo Disney Parks were really fun, although not for the reasons you normally think of when visiting a Disney park. In Part 1, I described the interesting people that one could watch all day long throughout the parks. In Part 2, we're gonna cover the merchandising and how it differs in Japan from America.
The Merch!
Our first day was spent at Tokyo Disneyland, the second at Tokyo DisneySea. I was expecting the usual stuff – tons of princess-themed items, lots of different ears, too many cheap plastic toys that do not interest me or my children now that they are grown. I was pleasantly surprised!
Difference No. 1 in Japan vs. America – Duffy is BIG here. Princesses are NOT. Yes, there were pretty much three things that you could buy for your princess: dolls, key chains, and those shoe-ornament things that are based on the princesses.
Duffy and Friends
Who is Duffy, you ask?  Duffy is Disney's attempt to have a cute, cuddly toy for Mickey. You can find all the backstory here.  Duffy was not that much of a hit in the US, but he has progressed to having his own entourage in Japan. He's got his girlfriend, Shellie May, a rabbit pal, Stella Lou, and a new kitten, Gellatoni. The four characters not only have small, medium and large versions of themselves, but they have outfits to purchase (like Build-a-Bear), and every other kind of merchandise Disney can think up for their Japanese market – pens, pencils, purses, bags, hats, ears, stickers, t-shirts. There are also versions of each character with costumes already on them to commemorate whatever promotion Disney is doing at the time. While we were there, DisneySea was celebrating Easter 2018 (for several months, apparently) and Disneyland was celebrating it's 35th anniversary. So each of the 4 animals had a separate costume for each of these celebrations.
Other Characters
Because they do not have much princess stuff, Disneyland Tokyo doesn't have that much interaction with the princesses themselves. The primary characters that roam the park are Mickey and Minnie, Chip and Dale, Donald and Daisy, and Alice and the Mad Hatter. In fact, Donald and Daisy have more merch than I have ever seen at a Disney park before. Men were mostly wearing the Donald ears (his feet), shirts and had small Donalds hanging off their backpacks.
Other characters really get a fair representation at the Tokyo parks – like the 101 Dalmatians, the Aristocats, Nemo and friends, Toy Story and Monsters, Inc.  I was looking for something for my nieces and I actually could not find any Frozen merchandise! I did eventually see some, but it was only in one of the small shops around the park, not in the large stores along Main Street.
The Home Store
I know the Disney Parks in the US have a homestore section for those people who really want a Mickey potholder or mugs or plates.  The Tokyo Disneyland also has such a store, but the items are a little different!  I absolutely LOVED the wall of chopsticks with different characters on them. Or if you need a lint brush or toilet brush holder with the 3-eyed monster from Toy Story, they've got it!
Popcorn Buckets
Something the Tokyo Disney parks have that I don't think are in America (or Paris) are the refillable popcorn buckets.  It's kind of like the refillable souvenir cups you get at Six Flags or Great America that supposedly save you money on refills.  I'm not sure that really pays off here, but the buckets themselves were great!
There are at least 8 different types of popcorn you can buy in each park. They range from the regular salted, to honey, caramel, soy sauce, garlic shrimp (our favorite!), blueberry, tomato and herb, chocolate, and curry. I have to say the seasonings were not that strong, except on the garlic shrimp (which is why we like it so much). Blueberry tasted like breakfast cereal, and there was just not enough caramel or chocolate to rival the stuff we are used to.
Depending on which popcorn trolley you visited, you could buy a different bucket.  There were some absolutely amazing ones – like the Cinderella coach with wheels that actually moved, BB-8, Buzz Lightyear in his box, or a cute Duffy popping out of a bag. Here's a few shots of ones I saw:
Food Gifts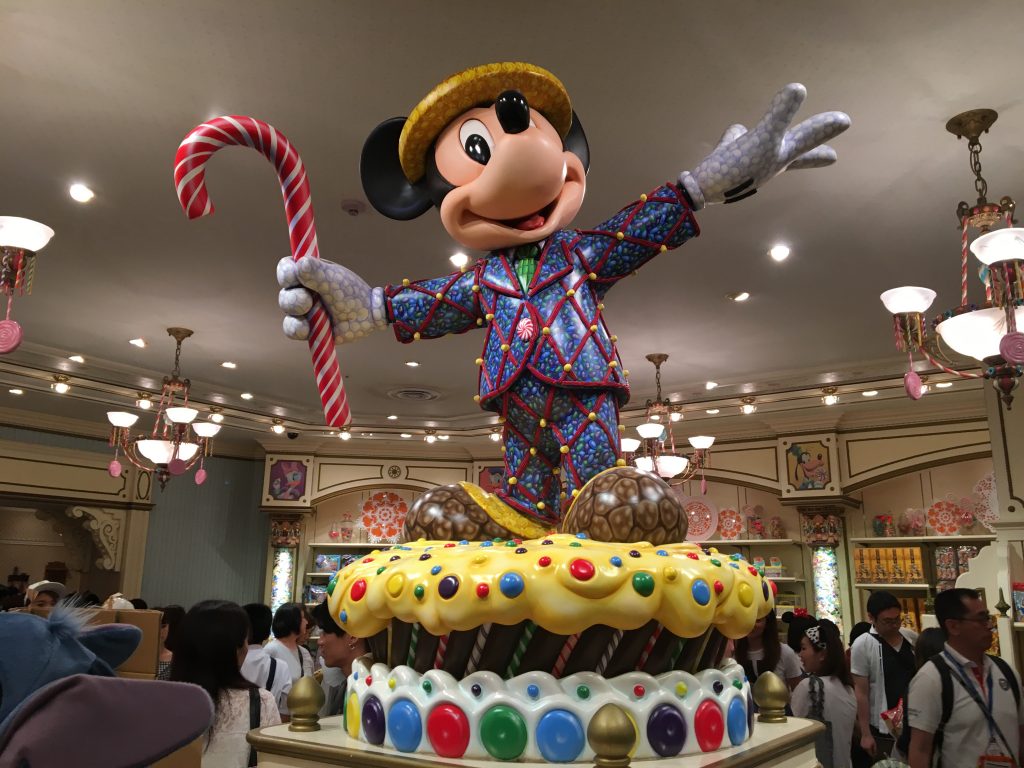 The amount of food gift options at both Disneyland and DisneySea absolutely blew me away. In the US and Paris, there are the standard options of rainbow lollipops and maybe some bagged cookies or chocolates to bring back to coworkers or family to show them what an amazing time you had. These options are usually included in the stores along Main Street, but the Japanese have taken this last-minute gift option to the extreme.
There were stores solely dedicated to food items with Disney branding.  There are cookies, cakes, soup mixes, and candy all in beautiful tins, boxes and other packaging that would make receiving the gift very memorable. Who buys this stuff, you ask?  EVERYBODY.  At the end of the day – probably between 5pm (when the people with little kids are exhausted) and 9pm (when all the fireworks and parades are over) these stores are PACKED with people and handcarts are bursting with gift tins.  Employees are bringing out more from store rooms in the back as the shelves are quickly emptied.  It was like there was a winter storm warning in Dubuque but instead of milk and bread, everyone needed Disney cookies to survive.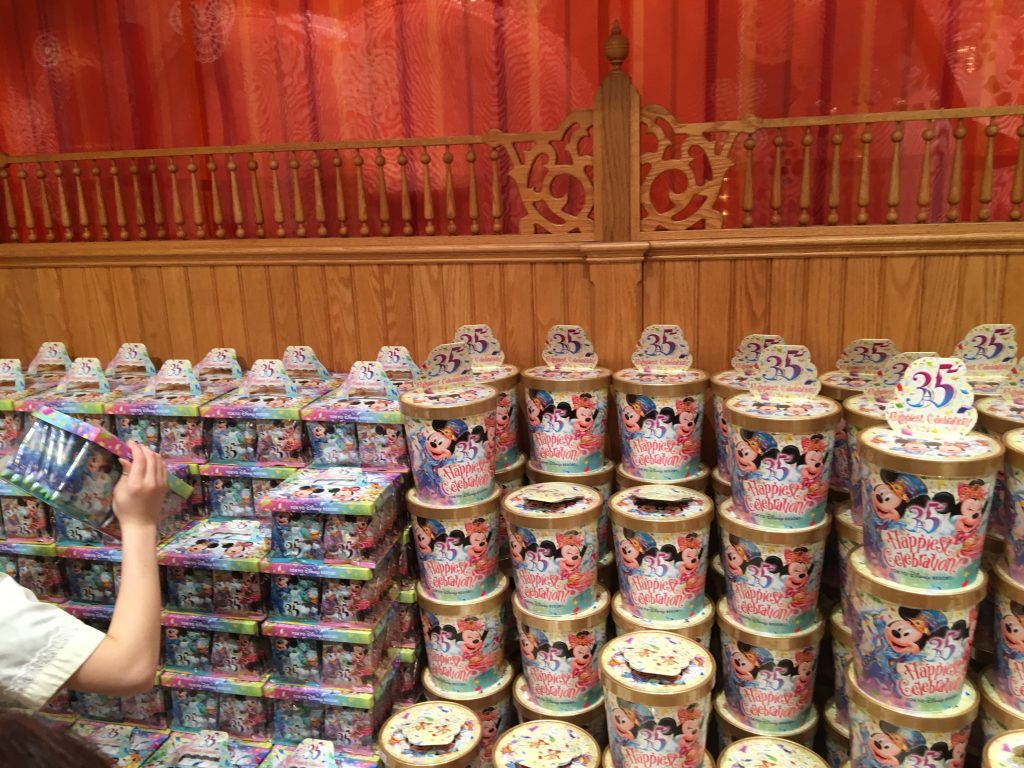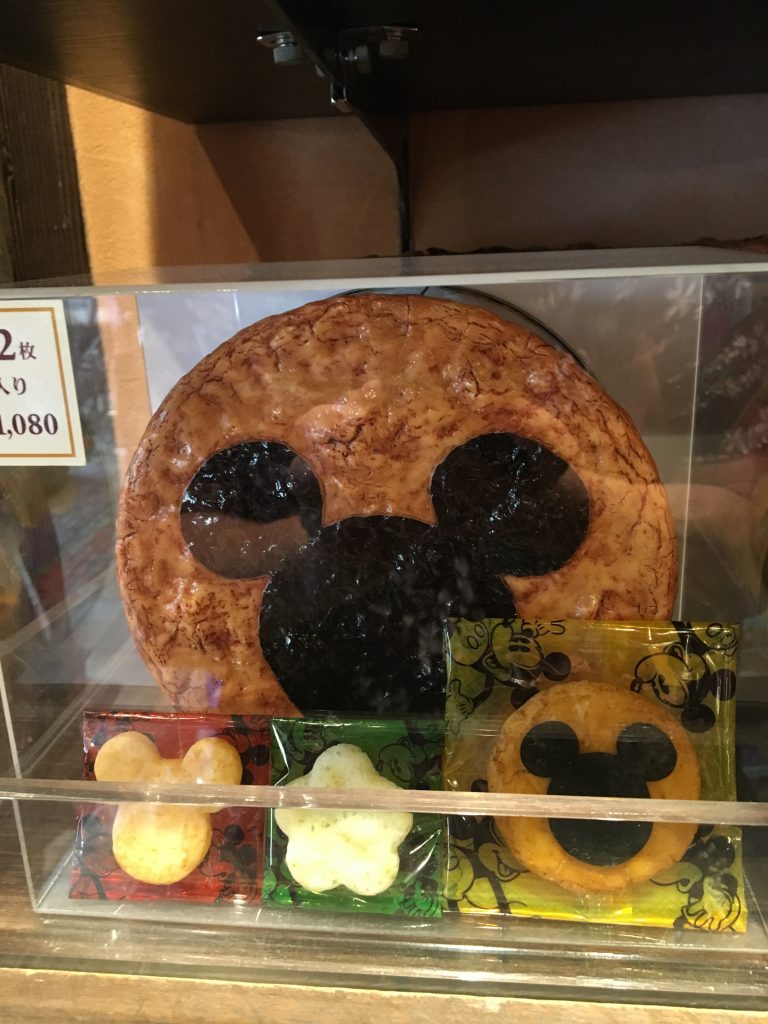 I hope this has given you Disney fans and shoppers a glimpse into the marketing world of Disney Japan!  I have to say I did not really find anything "cheesy".  Maybe a little bright, or different, but the quality of all the products was very high. If I had more room in my suitcase, I would definitely have bought some of the cute Duffy ears or Mickey and Minnie in kimono.  Let's hope there is a next time for Disneyland Tokyo!