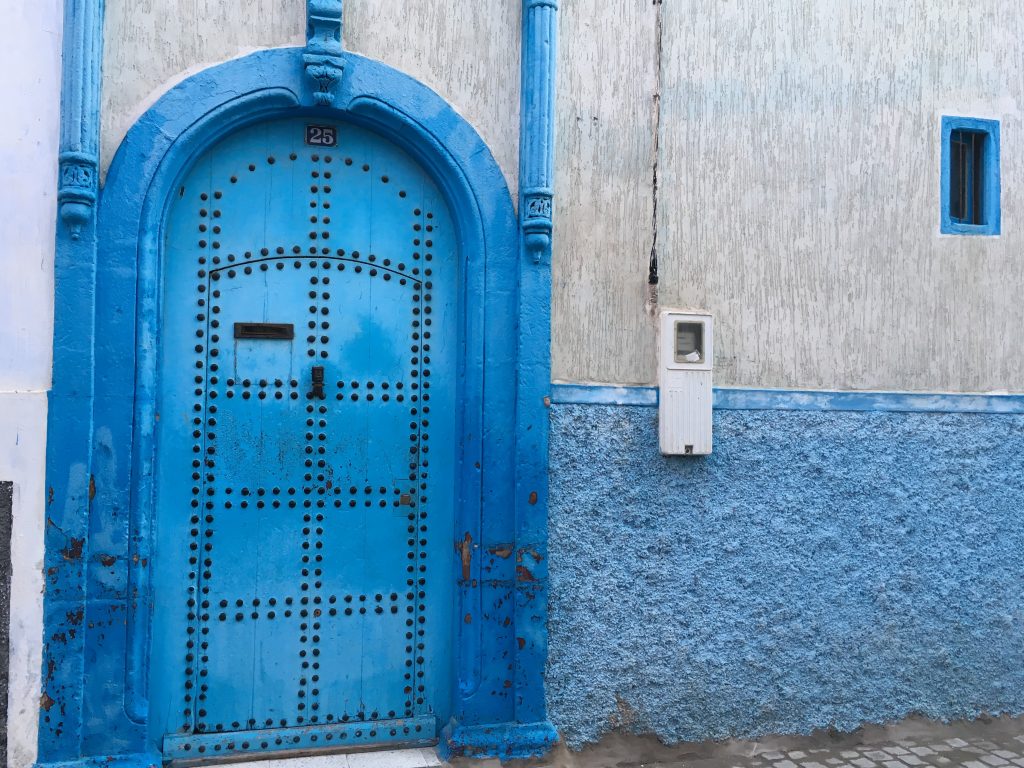 First Impressions
My first impressions of Rabat and Morocco happened at the airport. After waiting in a long, slow line to pass through passport control, we headed out to an area where I hoped there would be a taxi waiting for us.  I had booked a taxi through our riad (hotel) so I wouldn't have to haggle with a taxi driver going to a place that I had no idea how to get to.
Huzzah! Our first hurdle was successful when I saw a card with my name on it. The taxi driver was there! Then I looked around. Wow, kind of a small airport considering this is the capital city of Morocco. Not a lot of people, no one being dropped off, no one waiting for a flight. We must have been the last flight in that day (landing at 7:50pm). The airport was clean and with not many people around, really quiet. Not at all what I expected.
As we drove through the streets, I stared out the window at the rain. Yes, rain. A totally unexpected thing (for me) in Morocco. The rain wasn't heavy but did continue to come down the whole drive (and the next day). Where the heck did I pack my umbrella? I thought we had left the rain behind in Europe. We were in Africa now! A land of dry deserts and lush savannas…where it evidently rains in January. 
We were on a fairly empty main street/highway into the city and there were no shops or houses to be seen. Just a tree lined street with light poles adorned with green and red lights. The flag of Morocco is red with a green star on it. The lights were nice and cheery and a good welcome to the country.  
I thought our taxi driver was driving rather cautiously and slowly, possibly for my benefit as I was sitting up front with him. I did notice, however, the random nature that he and others changed lanes, drove in the middle of the road (even though it was at least a 2-lane road each way), blocked each other or did u-turns. I decided it was a good thing he was careful. I must remember to tip him.
The Medina
Our first full day we were transferred to our host's apartment in the medina.  Wow, the medina. Here is where all stereotypes of an Arabian market are played out and all stereotypes are simultaneously flawed. It's not like any place I've ever been before, but it is somewhat familiar because of what I have seen in movies.
The first time in the Medina was not so interesting. There was not a lot of action because it was the middle of the morning and we were there on a Sunday. Every day it has gotten progressively more busy and chaotic. We walk through it to get to the preschool where we are volunteering and every time I notice something new. 
The main streets are large and if it is early morning they are not as crowded since the shop owners have not pulled out their wares 15 feet into the middle of the thoroughfare. Still, depending on where you are, there are bicycles, motorcycles, bikes pulling large carts, people pushing carts and wheelbarrows and lots of paving work being done throughout. On top of that, there are small tables set up in the middle of some of the streets where sellers are hawking scarves, spices and trinkets. Today we saw a box of large turtles sitting in the middle of the road. I'm pretty sure it wasn't there yesterday.
There are many clothiers throughout the Medina. They seem to all sell about the same thing. Lots of shoes, casual clothes from pajamas to sweatshirts to robes, and in some sections there are very bright and blingy dress robes. I'd love to buy a few of these and just wear them on a daily errand to the grocery store or something. With my crown. They look super comfortable.
There are stalls with small silver teapots and dishware. There are stores with soaps, dry goods, socks, bras (who would go into these to buy a bra when all the retailers are men?!?!), dates, dates and figs, pastries, beef, hooves, dog leashes, random electronics and the list goes on and on.
It's a like a mall where you go and you have no idea what you will find (the first time). As you go through the mall more and more, you become accustomed to what you will see and before you know it you have landmark stores, or landmark people.  The landmark people are usually the disabled, disfigured or blind people who sit on the sides of the street on small cushions and call out for money. They inhabit the same locations and after only a few trips through the medina you can tell where you are by the landmark people.  
There is one section of the medina where we have found a "water man" who sells, literally, drinks of water. He wears a bright hat, is covered with brass cups and a leather apron/coat that has more brass studs on it. He's called a "greb" by our hostess, which according to one definition means unsavory person. But, she told me the water he sells is fabulous. I may pass on that one.
The cats of the medina are everywhere. There are huge numbers of feral cats running, eating, sleeping, pooping and wandering around. They tend to congregate in the bits of sun right now. Probably because it's chilly here (comparatively) in the winter. They all look sad to me. Flea-ridden, often with open sores, swollen eyes or funny walks. They also seem to not be on the friendliest of terms with each other, as we have seen several standoffs regarding food. They probably have little pacts with each other that we'll never know about.
Still, the medina teems with life and goes on as it has for centuries.