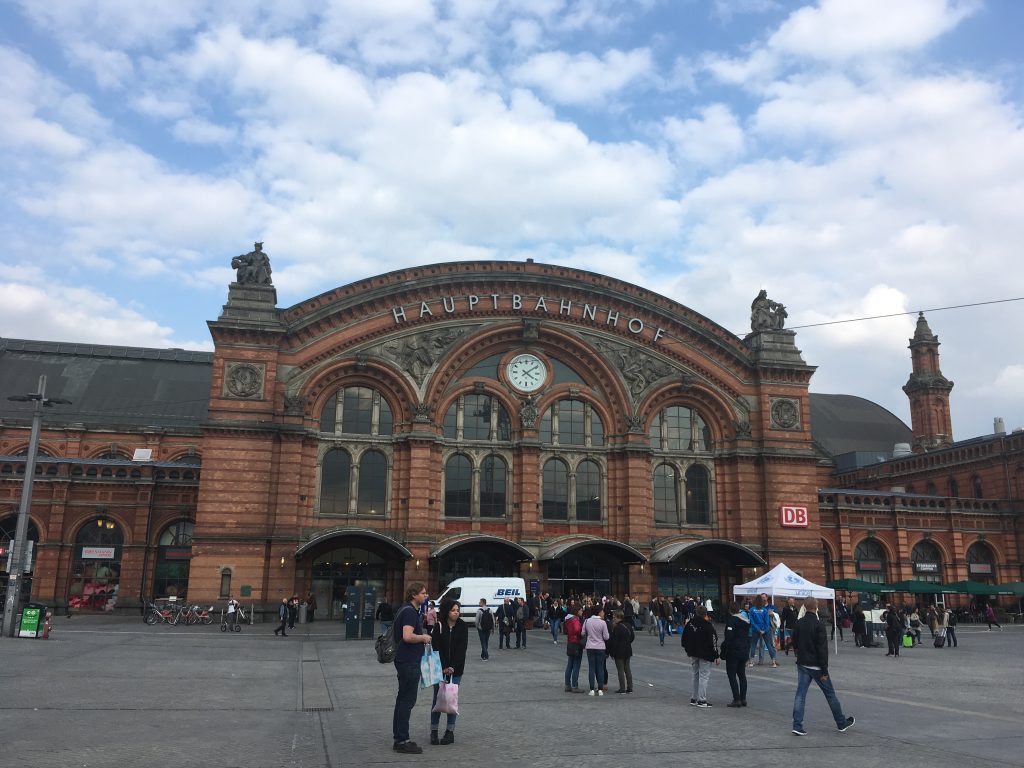 I have a love/hate relationship with rail stations.
I like to call them "bahnhofs," since we have been in primarily German-speaking countries for the last few weeks. "Hauptbahnhof" (main rail station) just rolls off my tongue now! As we've been on the road for almost 60 days and have taken 31 trains, I feel somewhat knowledgeable about navigating rail stations.
Your average bahnhof is a railway station of some considerable size, at least enough for all local trains and intercity trains to stop, and/or for trains to pass each other with cargo or people if they aren't stopping.  I've only been to a few train stations that had fewer than 8 platforms. These were in northern Denmark, Slovakia, and Czech.
My love/hate relationship solidifies when all the great things about the bahnhofs and all the crappy things about them mix up my emotions when I get to new city.
Yay! We're here!
I love pulling into the train station, seeing the platform, the name of the new city, and the crowd (or no crowd) waiting to get on the train. It's a new beginning, a new start to the next adventure.
I hate getting off the train.
It's not that I'm sad to leave the train, but it means the beginning of the journey to our local lodging, which involves several steps.  First, hoisting my rolling bag down the tiny steps of the train onto the platform quickly so as not to obstruct others from leaving the train.  Then trying to find an escalator so I don't have to drag it down a long set of stairs and go thumpety-thump and embarrass myself. And finally working my way out to an area of the station so I can figure out what direction we have to go next. 
Getting twisted around in a station is par for the course, and we've learned to handle these frustrations by just taking our time when we get out of the train station. There have been many stations that have good signage, and we immediately know where to go and how to get around on the metro or buses.  Others could use a good multimedia person to redo their signage, web presence and pamphlets!!  Don't you want people to get out of your rail station and enjoy the surrounding city?! How can we if we can't find the exit?
Poor signage notwithstanding, that is one reason why I love bahnhofs. Usually, they are the center of a city and an actual information hub.  Since train travel is so common for Europeans and tourists alike, almost every bahnhof we go to has a tourist information office.  Some of the smaller towns don't have one in the station, but they usually have one farther in town (Lubeck, Bremen).  The trick is finding the (i) symbol or something like it for tourist information.  
The Trade Off
So, while bahnhofs are good for being the center of the city, the downfall is that they are at the center of the city. This means that homeless people, drunks, drug dealers and other icky individuals are there hanging around.
They might not be inside the bahnhof, but as soon as you step out of the door, you are enveloped in a sickening smell of cigarette smoke and day-old piss, ground littered with cigarette butts and trash, and lots of loud talking, yelling and traffic noise.
I do not like having to forge my way through this mass of humanity. I realize I am a tourist and I do not live there, while they *obviously* do, but I just really don't like it.
Some bahnhofs have this under control. Berlin, for instance has a very small strip of sidewalk (compared to the enormous interior) for smoking. You really only have to walk about 10 feet to get through the doors into the Hauptbanhof where there is no smoking and it's clean(er).  Other places (Prague) have a lovely park surrounding one side of the bahnhof where we were actually warned not to stop because of the unsavory people there. I believe it after we saw a drug deal going down one day while walking into the bahnhof to catch our next train.
Different Town, Different Station
Every bahnhof is different. That's another reason to be interested in going to them. You never know what kind of architecture you will find (on the outside) and what kind of commerce you will find on the inside.
 Mid-sized town bahnhofs often have the older architecture still giving character to their edifices (Lubeck, Bremen, Dresden) while most of the larger cities (Berlin, Prague, Munich) have redone their bahnhofs and they look more modern.  Although Copenhagen is a big city, it still has it's old exterior and a newer upgraded interior.
The inside of each bahnhof is also different, but you can be almost assured of two main things. There will be  places to grab food, and WC's (toilets). You will have to pay to use the toilet, but that money employs people to stand guard and clean up the toilets after every person goes.  They are very clean and I have never had a bad experience. I just usually have to figure out what it costs, find the change, and get in before I pee my pants.
Food and Saving Money
The food! Oh, the food!  When traveling with kids under 16 and everyone is getting Hangry, there is no better place than the bahnhof to go for dinner.  Or lunch. Or breakfast. Anytime of the day (but not too late into the night) there are places you can grab sandwiches, kebabs, pizza, snacks, sushi, hamburgers, etc. You can get what everyone wants, go find a place to sit and eat it.
I know in America we think that to buy train station food must be the lowest you can go.  Well, think again my friend.  The food in the bahnhofs is always fresh and good.  Really. Mostly. Sometimes the pizzas do look a little old, but everything else has always been spot on.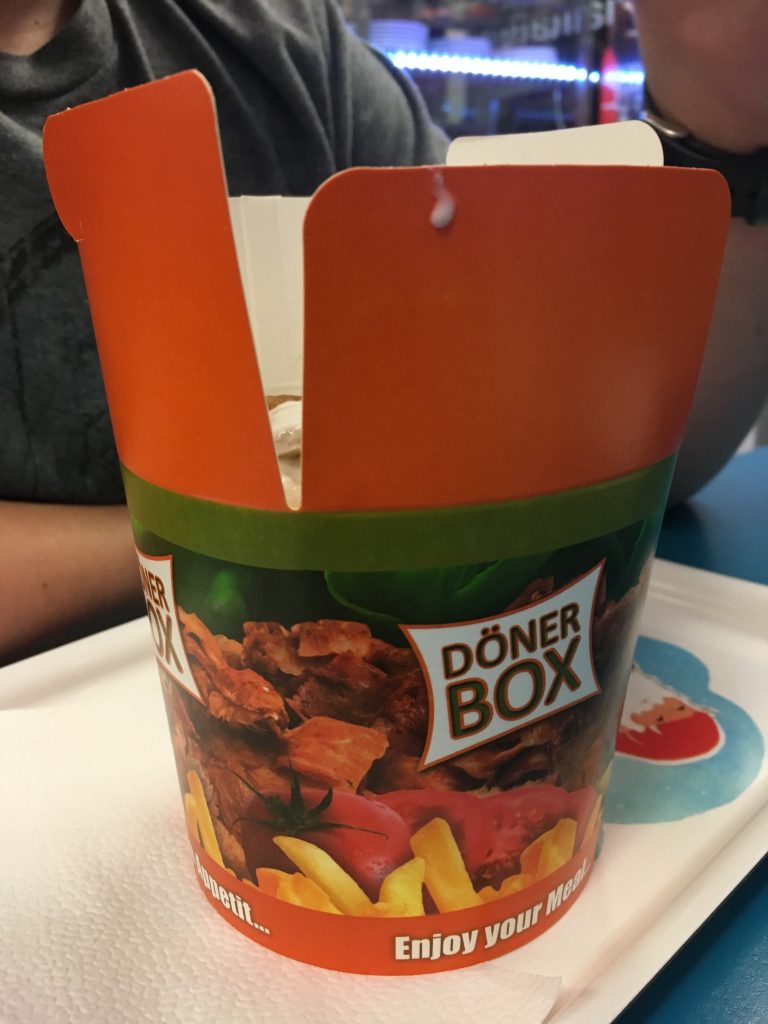 The cost of eating at the bahnhofs is also in-line with saving some money.  You will definitely save more than if you go outside the bahnhof into a trendy restaurant in the middle of town, but sometimes you might feel like shelling out 10 euro for 2 pieces of pizza and drink is a little much. Well, if it satisfies that cranky kid and you all get to eat what you want, it's worth it.
In Berlin, it was just easier to go to the hauptbanhof every evening to find food because we all seemed to want something different. I had been craving Asian, Elijah wanted a burger and Forrest wanted a currywurst.  We were all able to be accommodated quickly.  After a long day of touring, it really is nice to just eat and be done with it. (Which is NOT the European way where every meal is supposed to be enjoyed fully and slowly. We still have not become accustomed to this leisurely way of eating, but we are working on it.)
If you are particularly frugal and want to save the most money, however, the bahnhof can still come in handy.  Not all, but many bahnhofs have a grocery store connected to them, or just outside of them.  These grocery stores are very different as well. BUT they are very much cheaper than the ready to go food in the bahnhof. Many of the grocery stores specifically cater to the train crowd. Meaning, they have ready-made food to go in the refrigerator section, or they have a bakery with sandwiches. They also have fresh fruit which is hard to find elsewhere unless you go to an open market.
Here are a few bahnhofs that stand out for me:
Largest Hauptbahnhof:  Berlin, by far.  4 levels of shops, food, S-bahn and U-bahn (metro) trains.
Best Mall Attached: Krakow. Wow! 3 levels of great shopping, a food court and a grocery store with lots of wine right by the entrance.  Also, no major smoking/homeless problem.
Best Grocery Store: Salzburg. Smaller bahnhof but excellent grocery for buying stuff to take on the train or eat out on a day trip.
Best Wifi: Prague. We had to wait a few hours to catch our night train to Krakow and used that time to surf the internet.  Even in a crowded area, the wifi was great.
Best Dessert (so far!): Munich. They have a kiosk that sells these pastry/cookie/cake things with marshmallow filling all dipped in different types of chocolate. Yum!
I hope I've given you a taste of the bahnhof life!  The good and the bad.  I will always love train travel and will just have to remember to hold my breath and run out to the nearest bus when I leave the station!