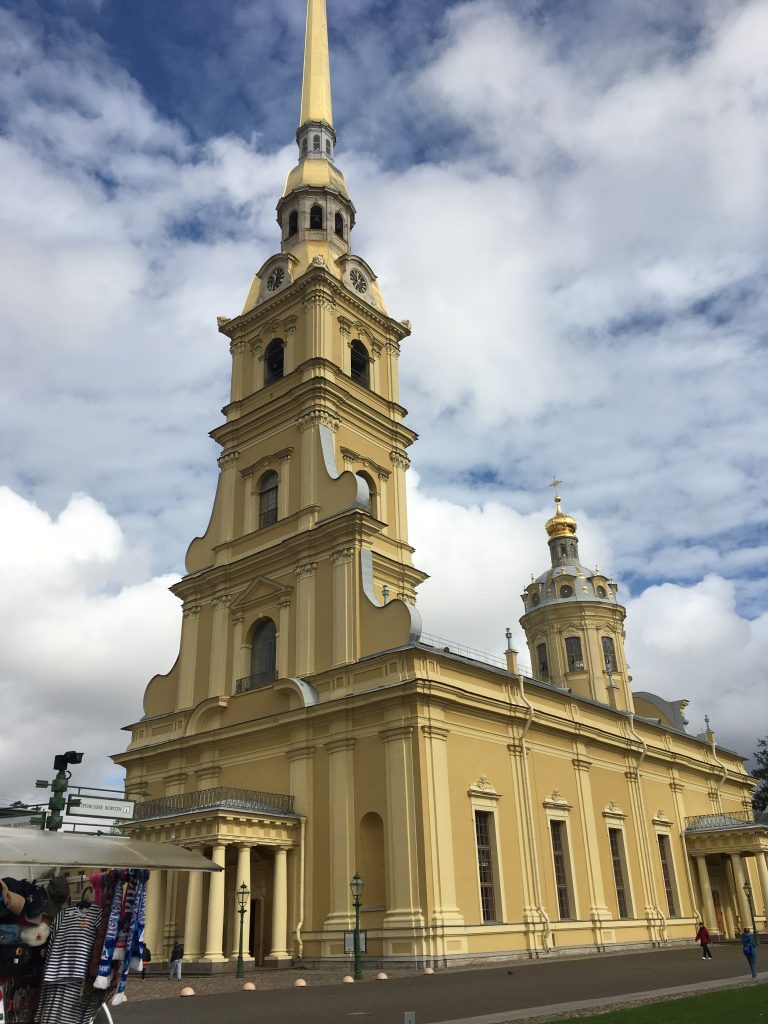 Peter and Paul Cathedral
One of the first locations we visited was the Peter and Paul Cathedral inside the Peter and Paul Fortress. It was amazing with gilt decor everywhere and large marble sarcophagi near the front on the left and right sides.  All of the czars are buried here.  There are a few exceptions (non-imperial family) that are buried in the back in a special chapel built in the 20th century.  As the outside is rather plain, I gasped when I walked in and saw the chandeliers, columns, and altarpiece.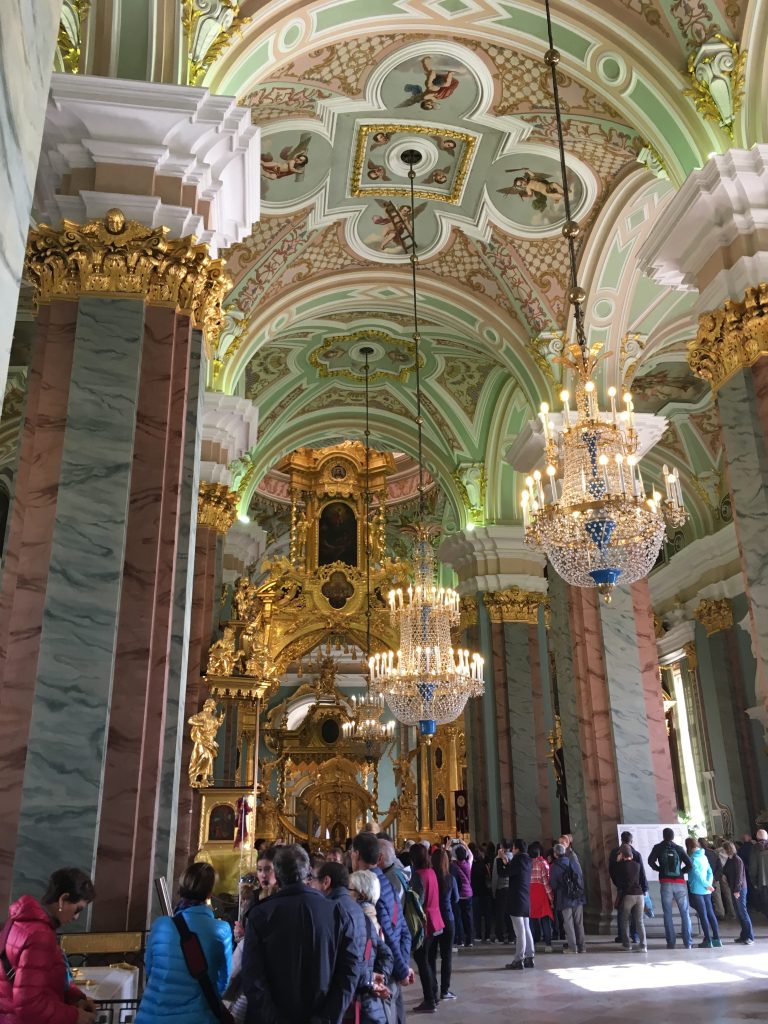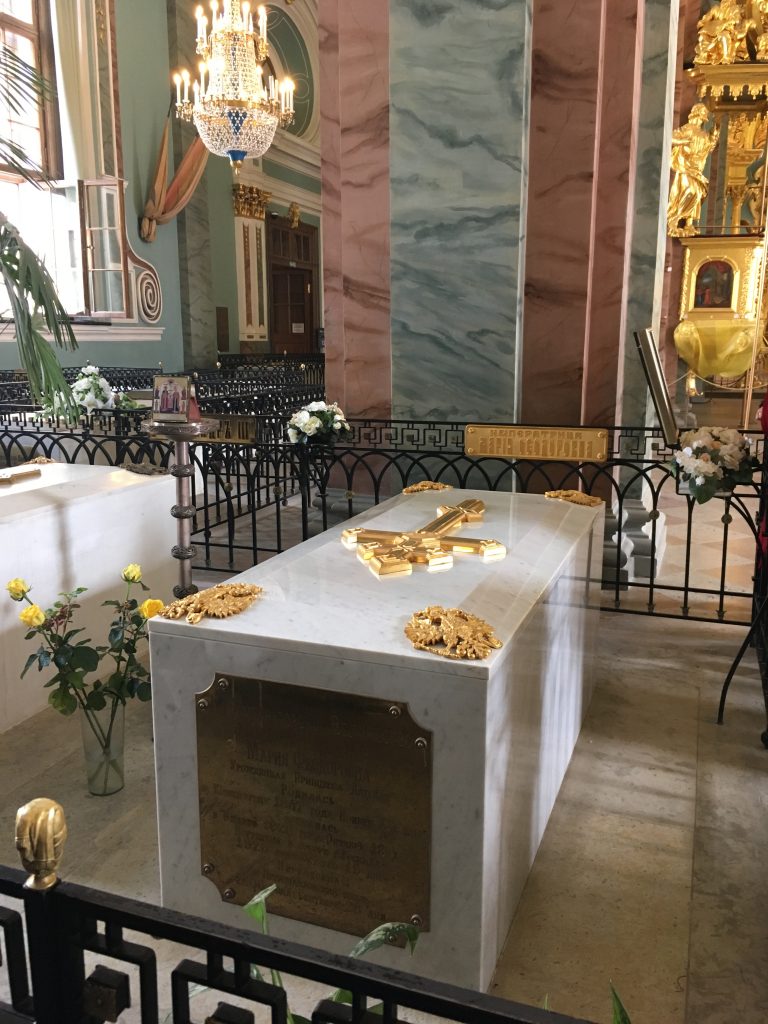 The fortress is a very interesting place with the church, a prison,  battery, barracks and engineering college for the military. It has been a museum and prison since the Soviet days. Now it is a lovely place to visit with green spaces between the buildings and plenty of gift shops!  Our guide told us that people in St. Petersburg will also come and hang out on blankets during sunny days right next to the Neva river on the stone ramparts.  I asked her if they would swim in the river, but she said no.
I also learned that Nicholas II's body has been buried in a small chapel in the cathedral along with remains of everyone else in his family and his servants. If you don't remember, his family (wife, 3 daughters and 1 son) were killed by the revolutionaries in 1917, their bodies burned and buried in a wood.  In the chapel the servants are buried literally underneath the family. Nurses, doctors, butlers, maids, along with every single member of the extended family that was alive were killed. This was to prevent the family from trying to reclaim the title of emperor after the revolution. 
Catherine's Palace & Pavolovsky Palace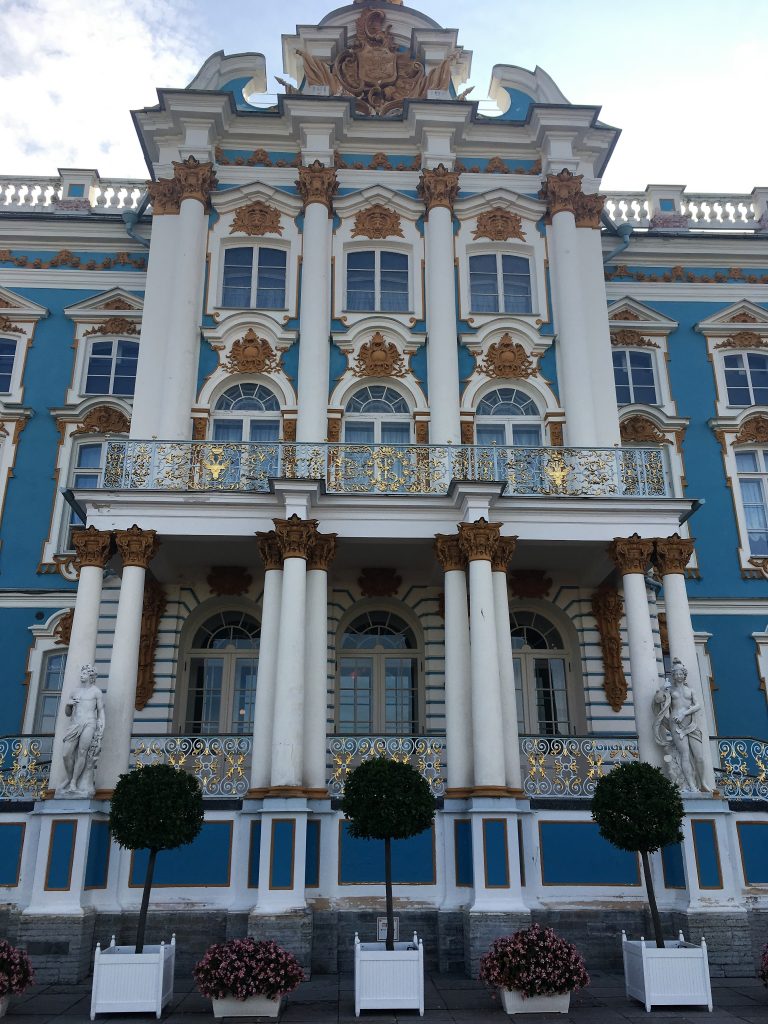 The first palace we visited was Catherine's Palace (built by Elizabeth I and remodeled by Catherine II) in Pushkin and Pavlovsky Palace (home of Maria Fedorova & Paul I – son of Catherine II).  Both were amazing residences and after seeing photos of what state they were left in after WWII, I am so glad the government decided to restore them.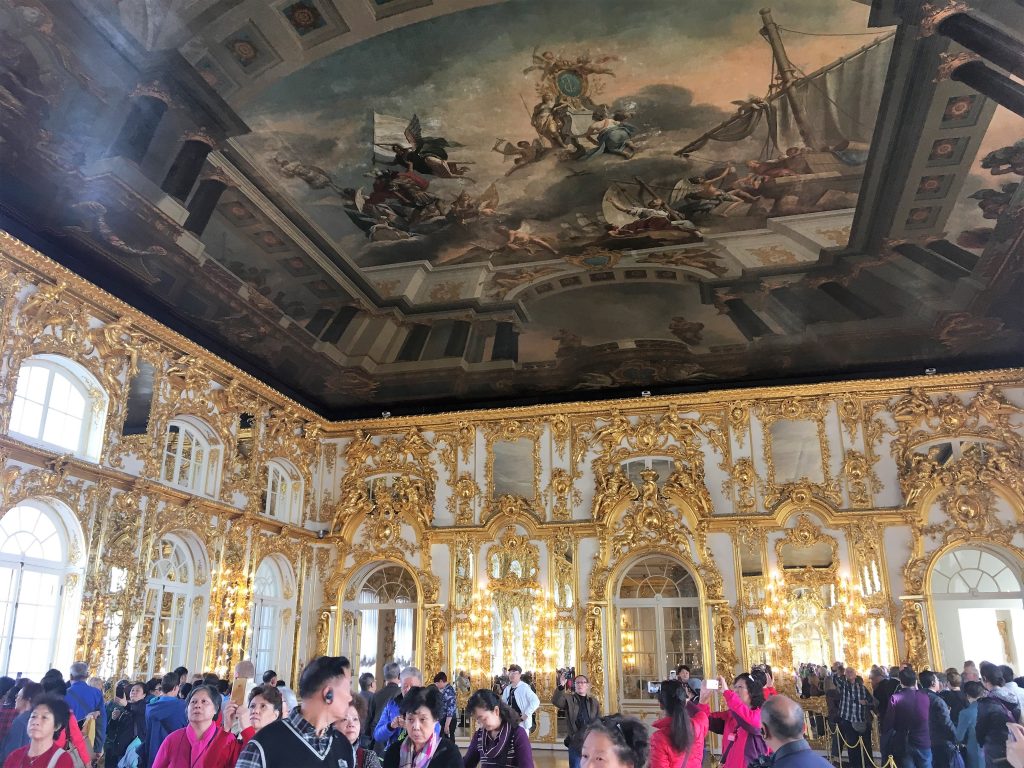 The insides of both rivaled Versailles, and Catherine's Palace is very influenced by it.  It had the long hallways with gilt room after gilt room, fantastic ballroom, and chandeliers.  The whole time I just kept thinking about all the gold that there was on the decorative mouldings of all these rooms.  Every. Single. Doorway. Wall. & Ceiling. I took a LOT of pictures of ceilings.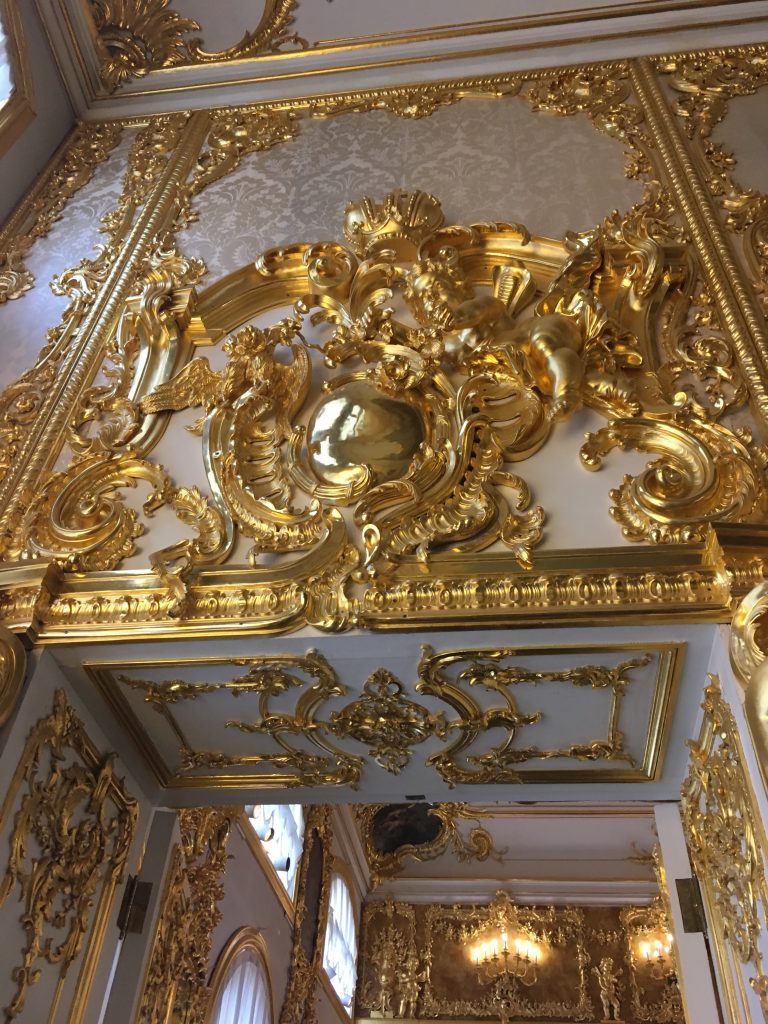 This palace is where the Amber Room was located. Everything in the room (art mosaics, wall decor, clocks) is made from amber. The panels were stolen by the occupying German forces during WWII and never returned.  After the war, restoration took 20+ years. The result is magnificent, but photos are not allowed as I'm sure most people would hold up the line to get through the palace.  One thing about the Russians – they are into getting the most people through in the least amount of time.
The gardens are also beautiful and had several different spaces after different styles – English, French formal and Chinese.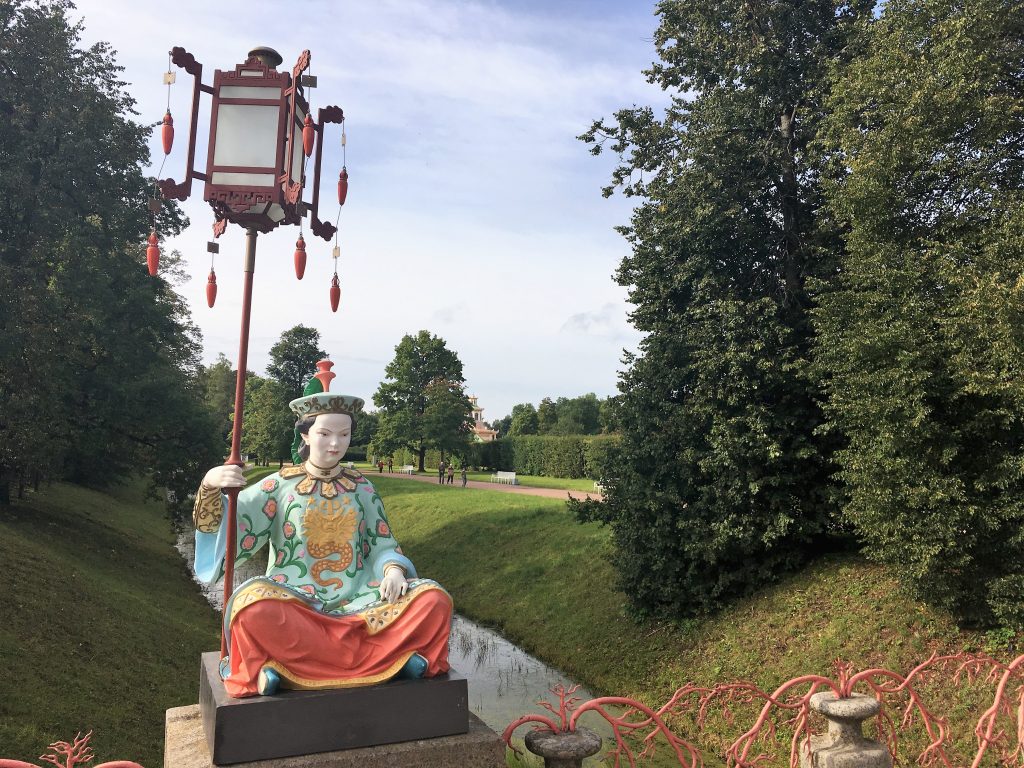 Pavlovsky Palace has the most beautiful painted details on all the ceilings and walls. Maria was an amazing woman who could paint, draw, do goldwork, carve cameos, and she built miniature temples out of marble and precious metals.  She was pretty and seemed to be a real renaissance woman who probably had to play by the rules more than she liked. She maintained that Paul I was a wonderful husband even though he had plenty of affairs. She was widowed when he was murdered in 1801.  
Her love of decor makes this palace a real stunner.  Everything from the ceilings to the floors is thought out and beautiful.  It is not a huge palace, and the outside is definitely more drab than Catherine's Palace, but the inside is fantastic.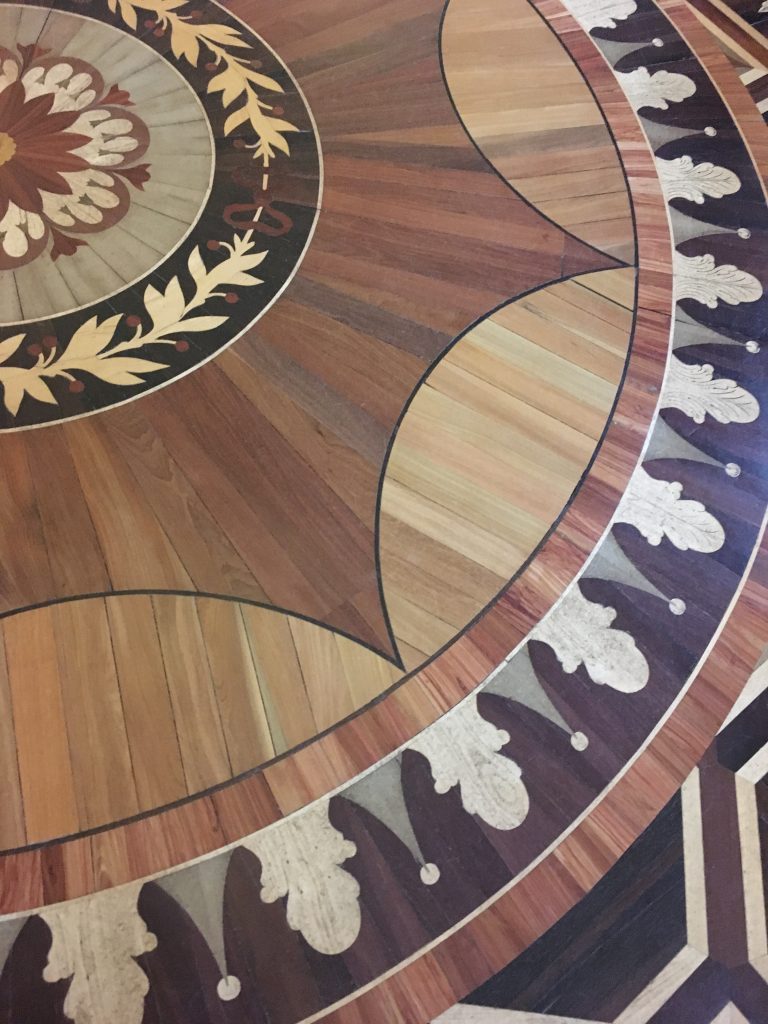 Maria's bedchamber was my favorite room in the palace.  She knew how to do overdecorating the right way!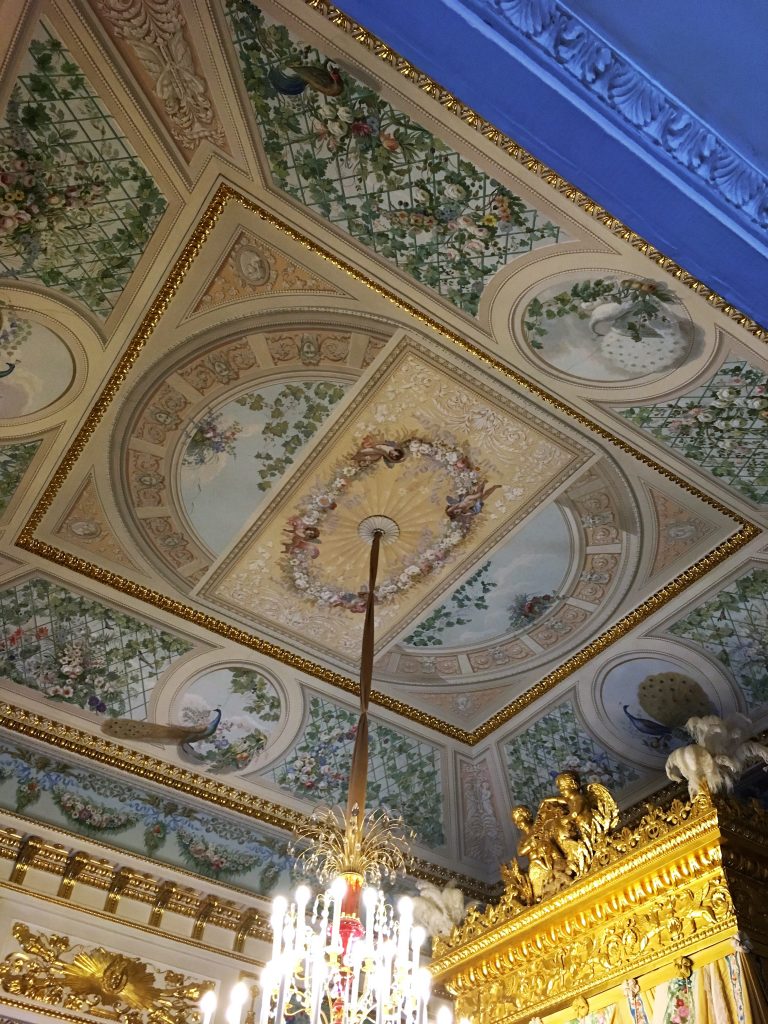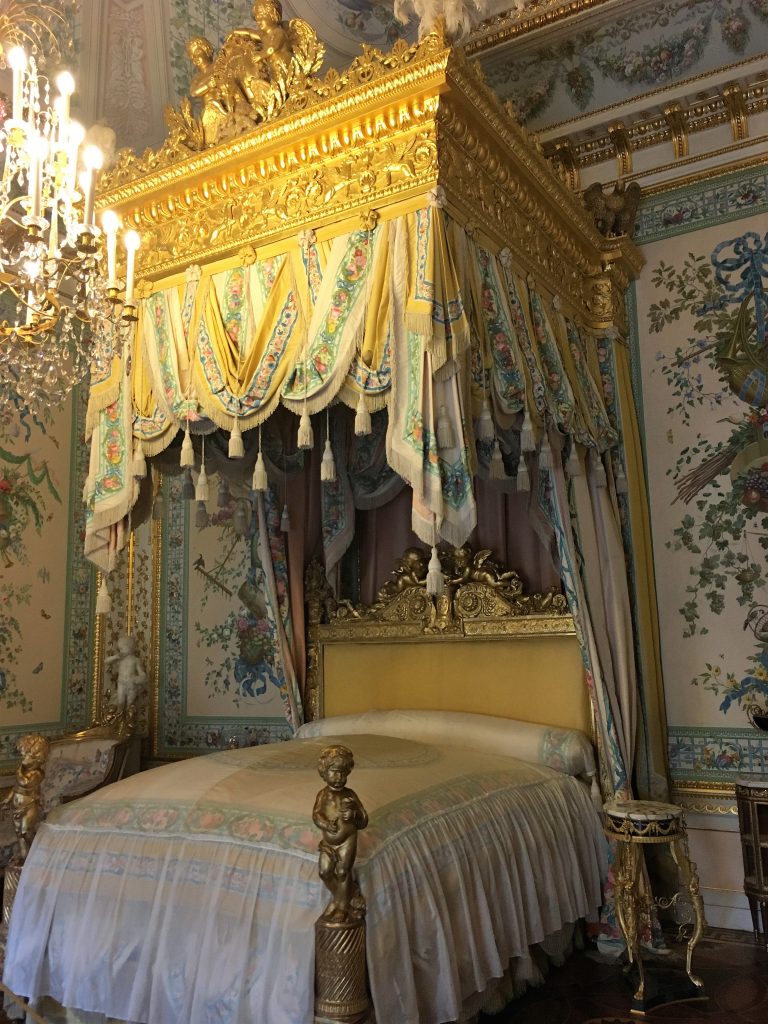 Peterhof Palace and Yusupov Palace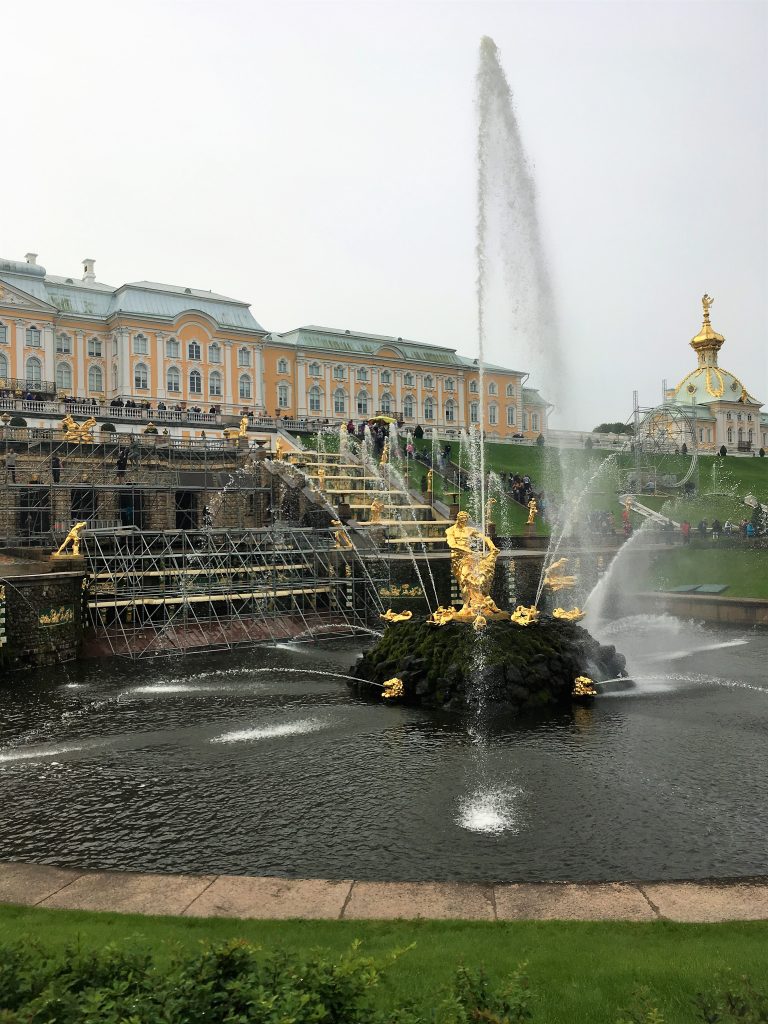 Our second day of palaces began with Peterhof Palace. This palace is located south east of St. Petersburg and is on the Gulf of Finland. It was a summer home for the czars.  Peter the Great used to drive his personal yacht up the main canal to be anchored where the fountain above is today, but in the next centuries, other czars did not share his love of sailing and put more fanciful decor in place of the landing area.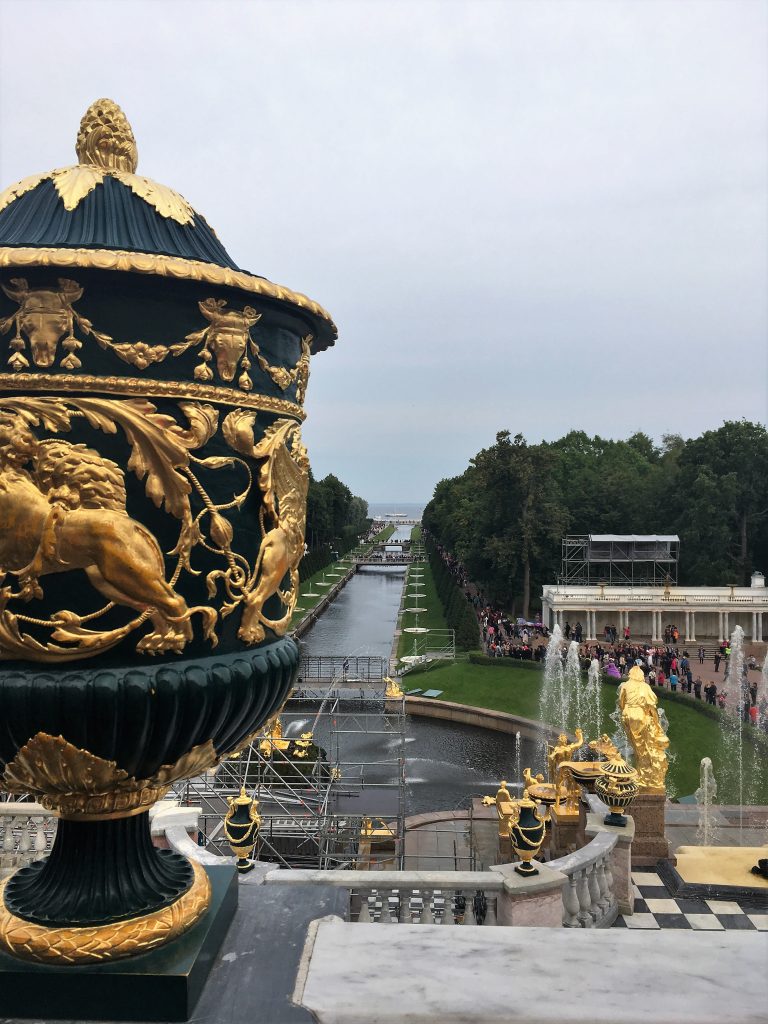 This palace was amazing, and although it was not as big as Catherine's Palace, it seemed like it had just as much stuff.  Unfortunately photography was not allowed in the palace, probably to keep the tour groups moving quickly.  There are timed entries for everything. Our tour guide was awesome at moving us through ahead of everyone, though. Below is the chapel building.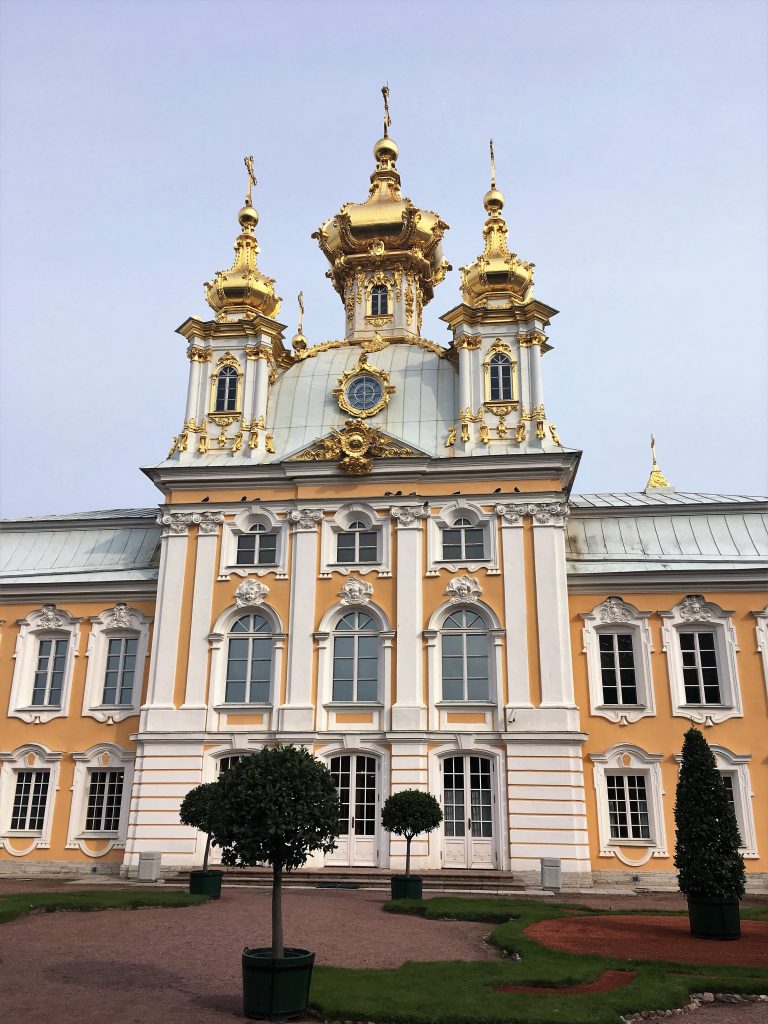 The room that stood out the most to me (from memory) was the ballroom that was similar to Catherine's Palace in decor (can you say gold?!) but was smaller in general so it just looked like it was one gigantic gold room.  Mirrors and lights added to the splendor.
The outside grounds were beautiful and being that it was a pleasant fall day, there were many Russians enjoying the parks as well as tourists. Below is the greenhouse where the exotic fruit trees were kept and where flowers for the gardens were grown.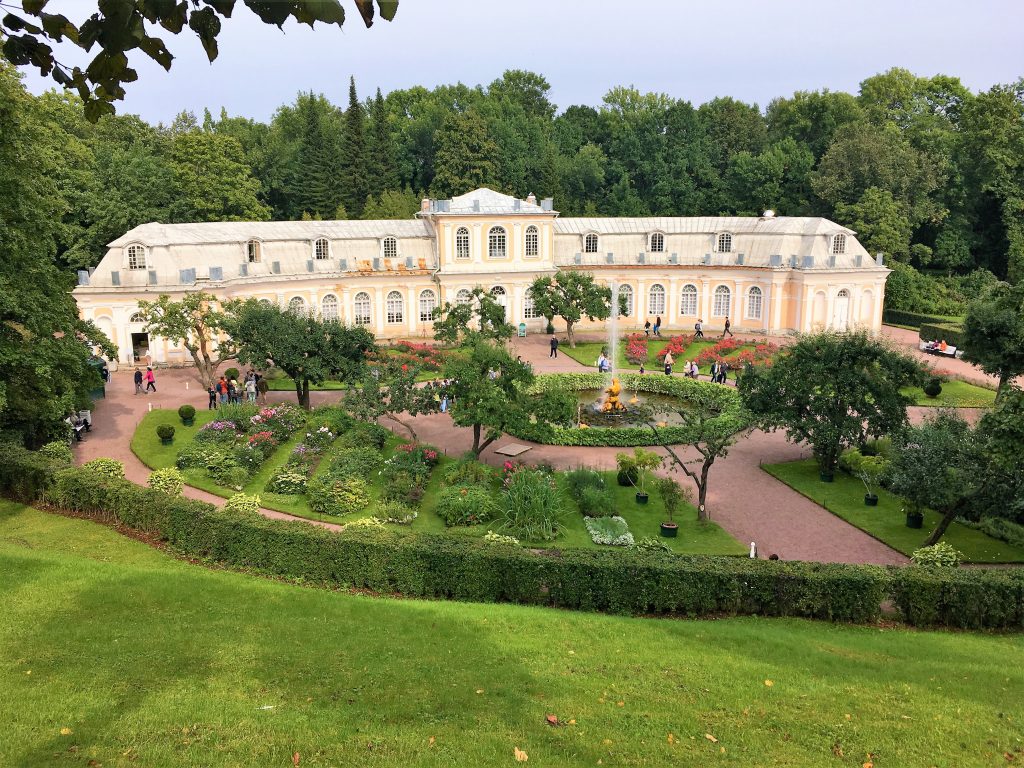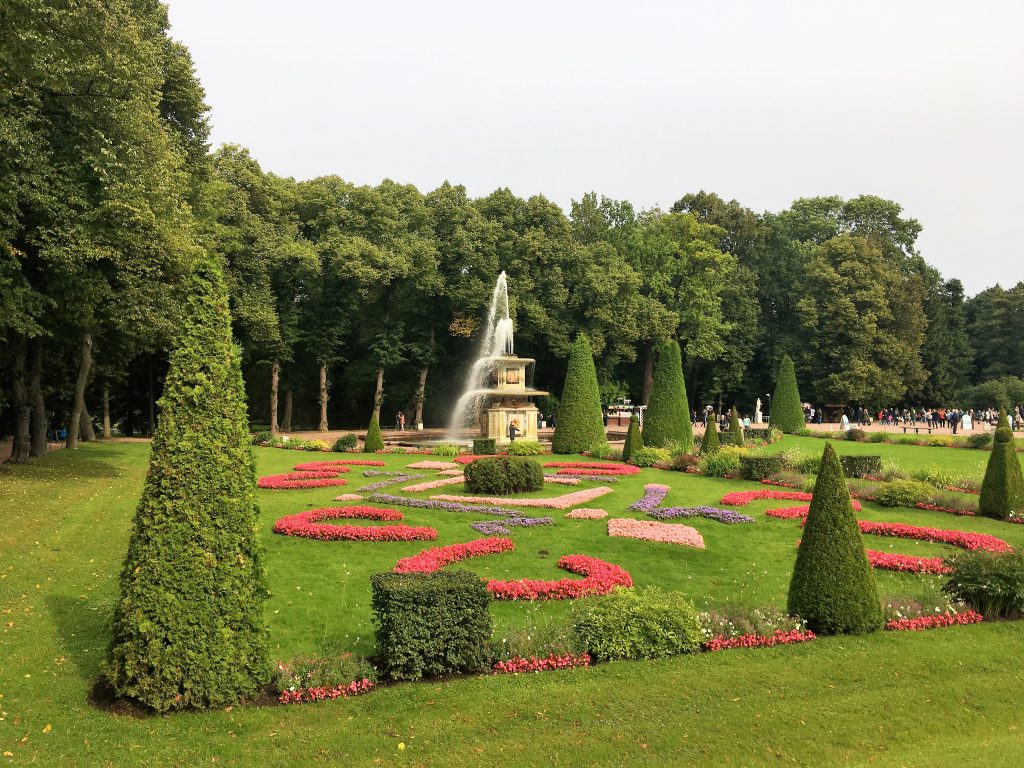 The Yusupov Palace was owned by a wealthy Russian family that could afford just about anything they wanted. (Think Bill Gates of Russia.) They made their money from precious metals in Siberia and used it well in decorating this palace. This palace has the also famous reputation for being where Rasputin was finally killed by Prince Felix Yusupov.  After poisoning, shooting and beating with clubs before throwing him in the river, Rasputin finally succumbed to hypothermia.
This family had a small theater to host famous musicians and vocalists as well as plays. Just a little fancier than my couch and flat screen…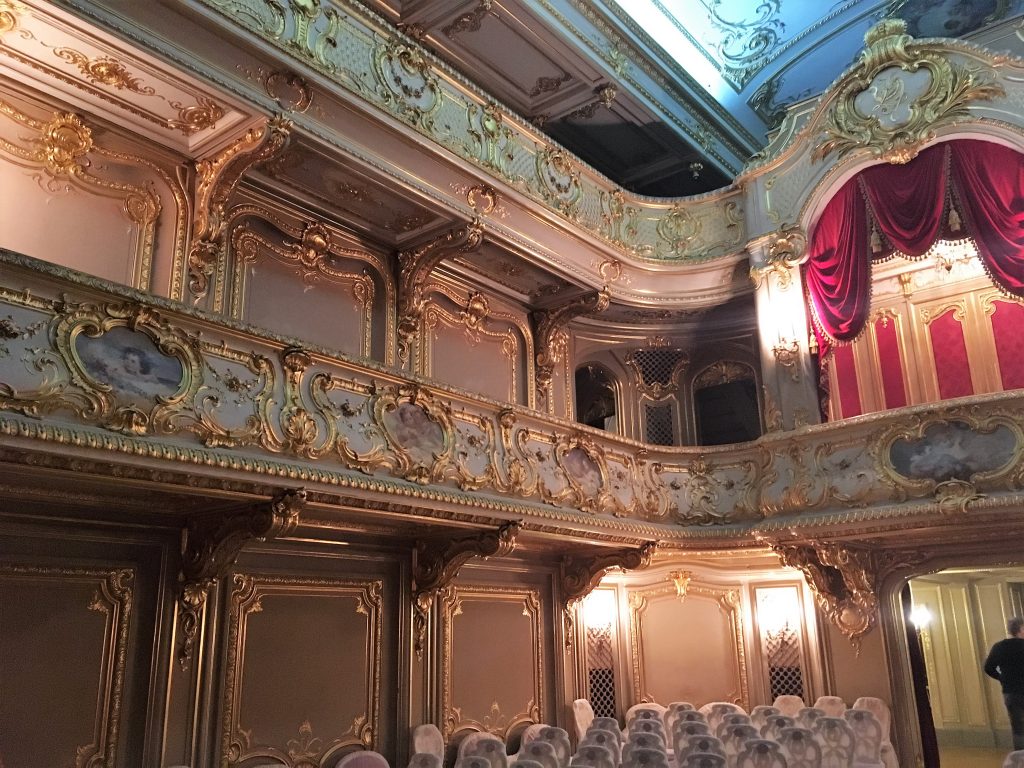 I also loved the floor in this red room. And the wallpaper has gold in it.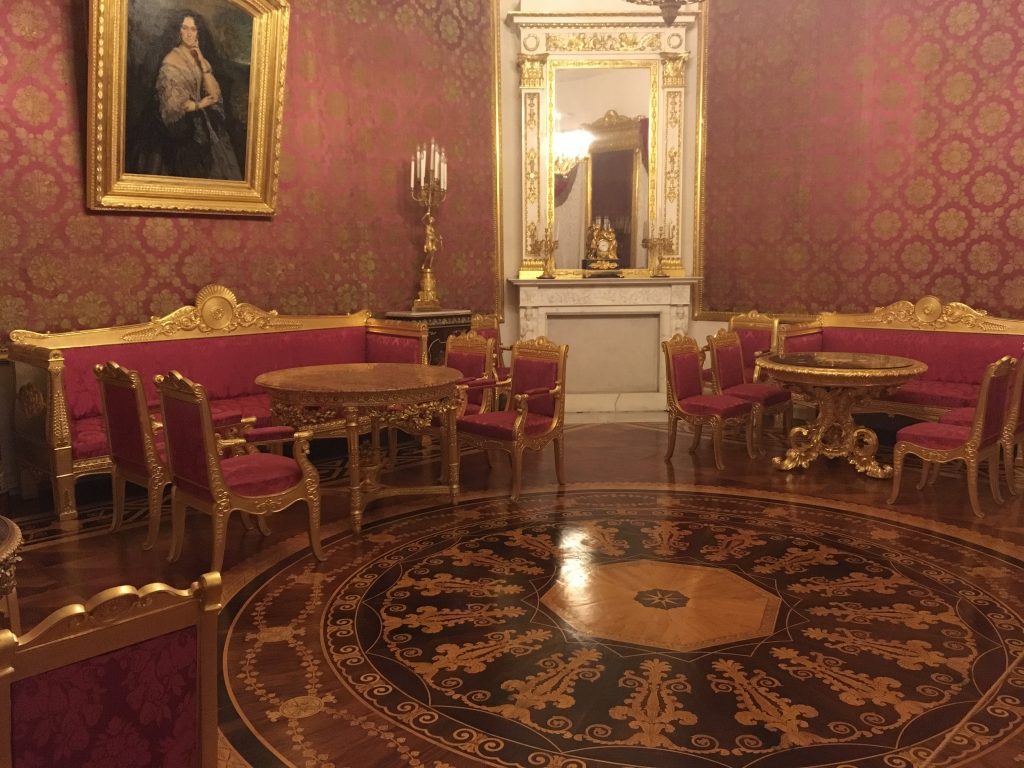 As the Yusupov's were always in style, they had, of course, a lovely Turkish room with a fountain in the middle. Just because.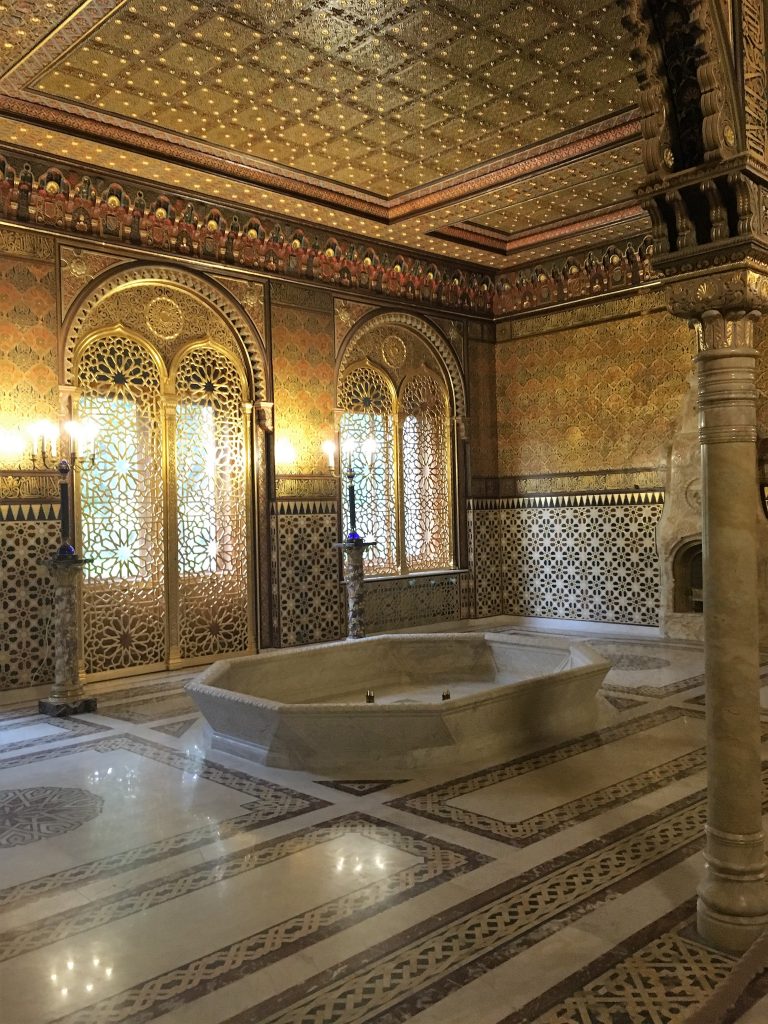 The Most Beautiful Church
I have seen many cathedrals in my lifetime. I have been to St. Peter's Basilica, the Sistine Chapel, Notre Dame, St. Chapelle, and many others throughout Europe.  I know this sounds impossible, but my jaw literally dropped when I walked into the Savior on the Spilled Blood Church in St. Petersburg.  I just could not believe the murals I saw.  They were beyond stunning. They were amazing, fantastic and so artistic all at the same time.
From the outside, I was expecting an austere Russian Orthodox interior with wood, lots of gold icons and some pretty ornate chandeliers (the Russians do like their crystal).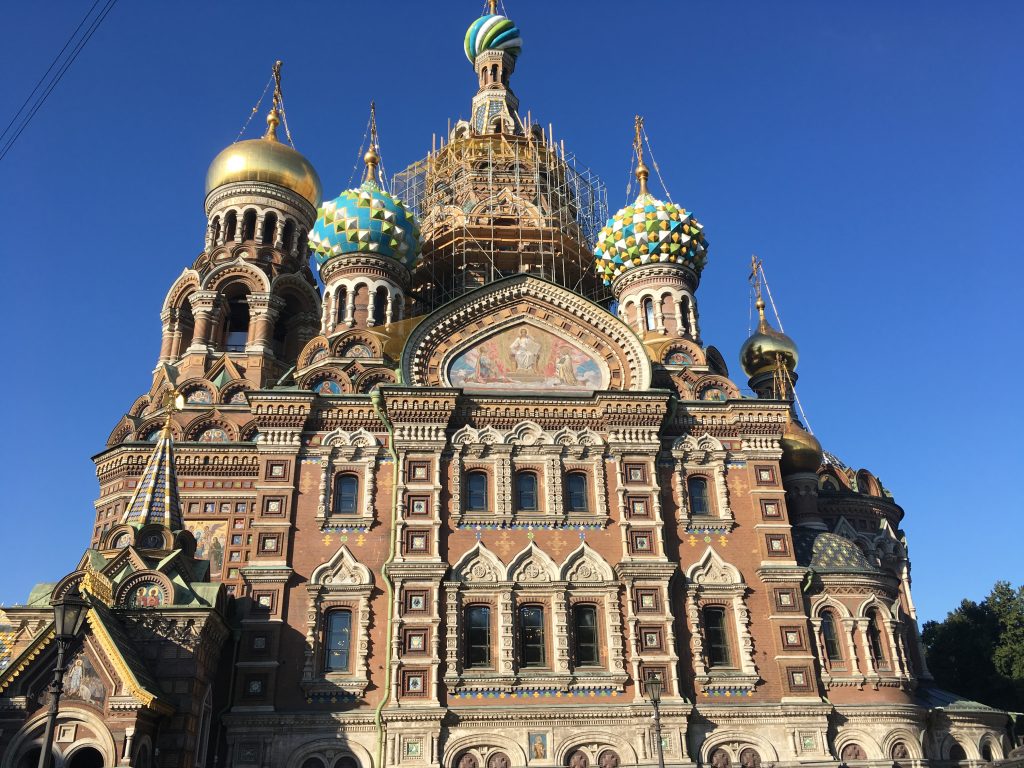 What I got was this: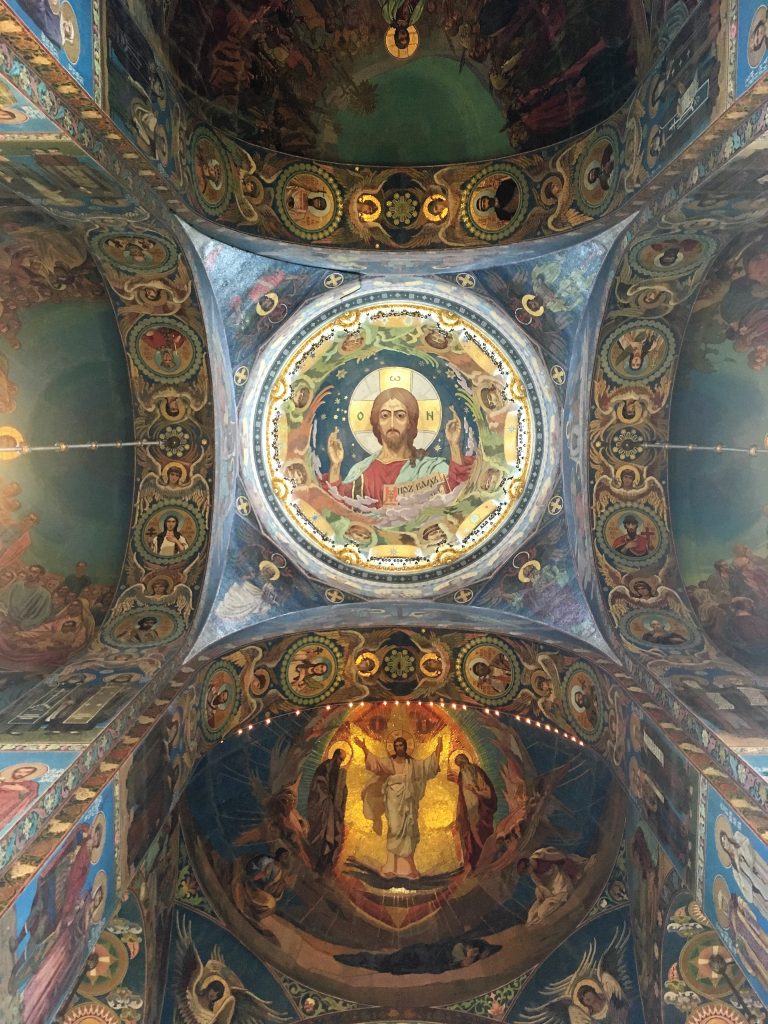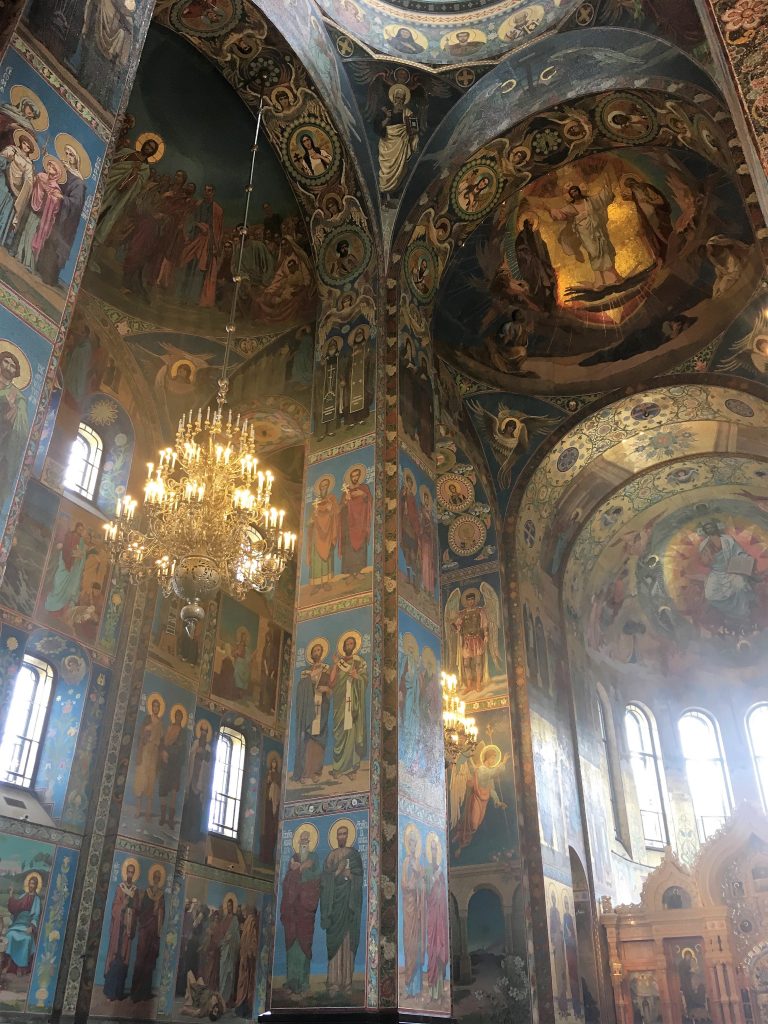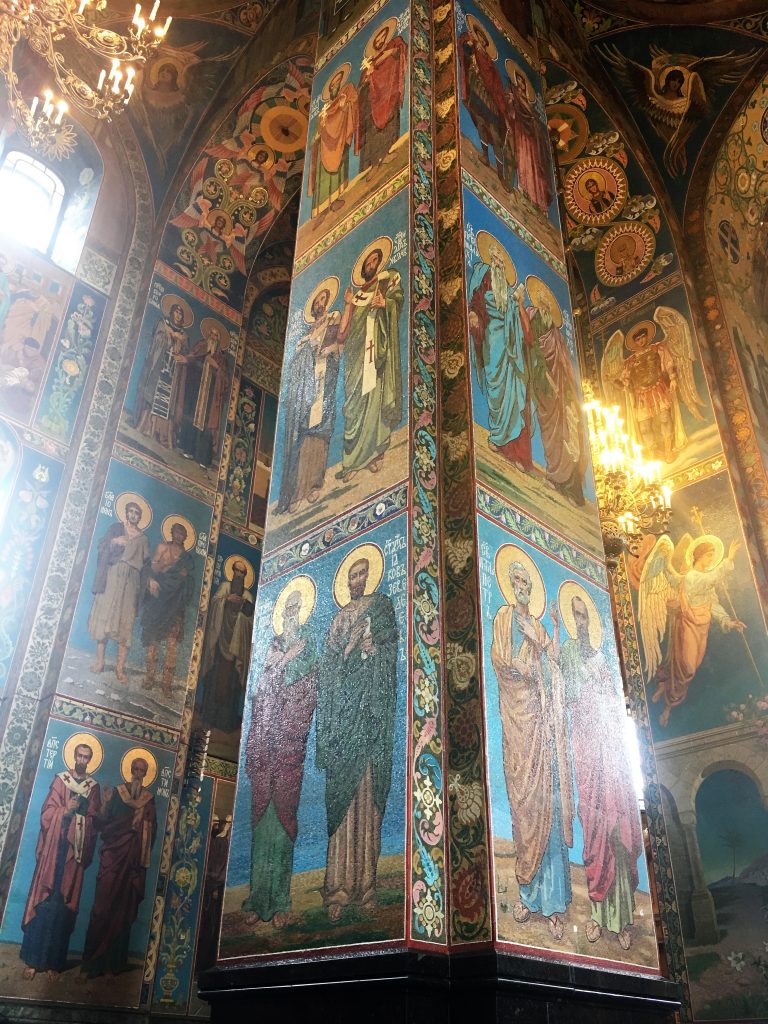 It may not look like much more than pictures, but every single surface you could see was covered in mosaics. Murals all over the ceiling, walls, corners.  The funny thing was that this church was almost demolished after the Soviets took over.  In the 1960's when the church was in danger of demolition, several cosmonauts wrote letters to the government to keep the heritage of Russia and let the church stand.  For many years it was a warehouse for cabbages.  It was refurbished over more than 20 years due to neglect and damage. Thank goodness it was saved.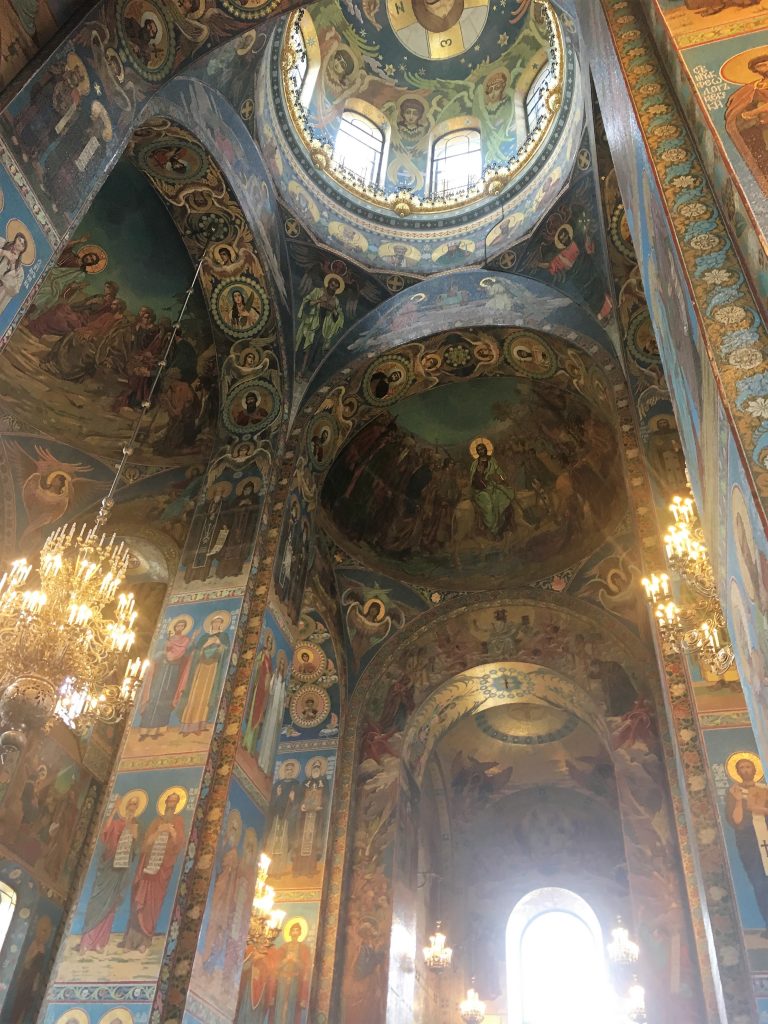 Bucket List Item – The Faberge Museum
If you knew me back in high school, you know I had a thing for shiny stuff – jewelry, crowns, gold. I also had a thing for Faberge Eggs.  I had an oversized book of close up photos of all the Faberge eggs known at the time and I loved looking through it.  To actually see the eggs close up was a real bucket list item for me.  The museum only had 14 of the original eggs given to the Imperial family, but it had a huge collection of Faberge creations ranging from simple pins to enamel tea sets.
Two of my favorite eggs are the Bay Tree (or Orange Tree) Egg and the Fifteenth Anniversary Egg. Seeing them up close is exhilarating. You can see the tiniest details in everything.  The portraits on the Anniversary Egg are especially wonderful and the delicate single hair brushes used must have been unreal to paint with. Remember, this egg is only 5.2″ tall!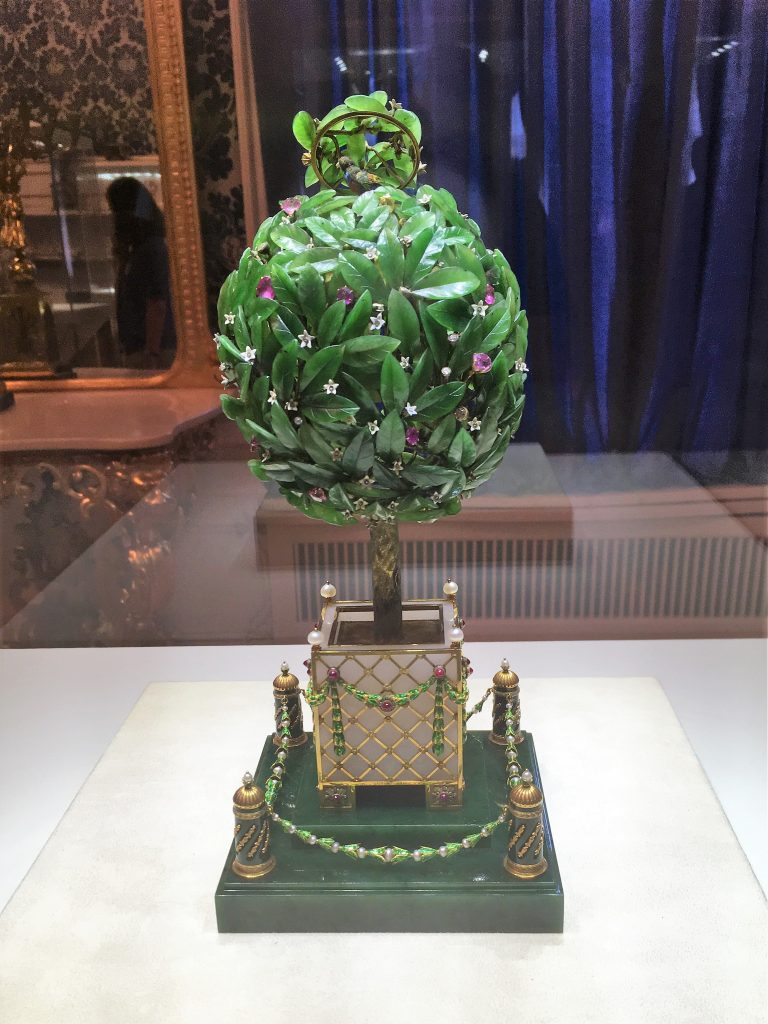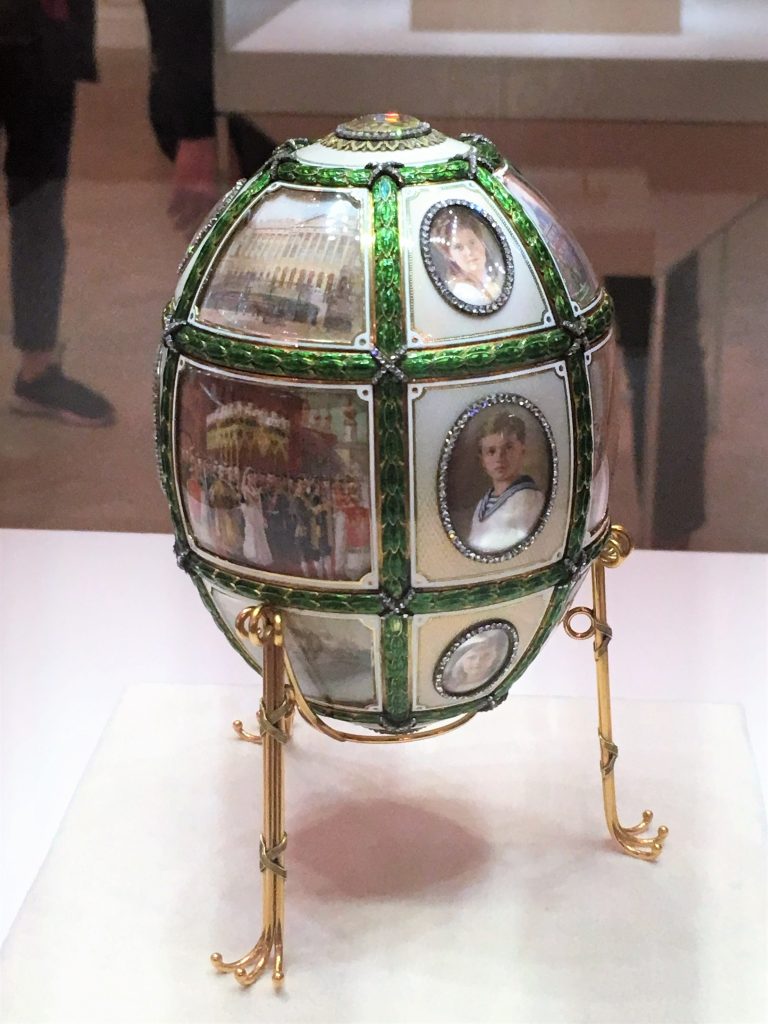 One of the treasures in this collection that I was completely charmed by is this tiny chair.  It is only about 3″ tall, but the detail of it is so delicate and perfect. I would love to have a whole dollhouse with tiny Faberge furniture!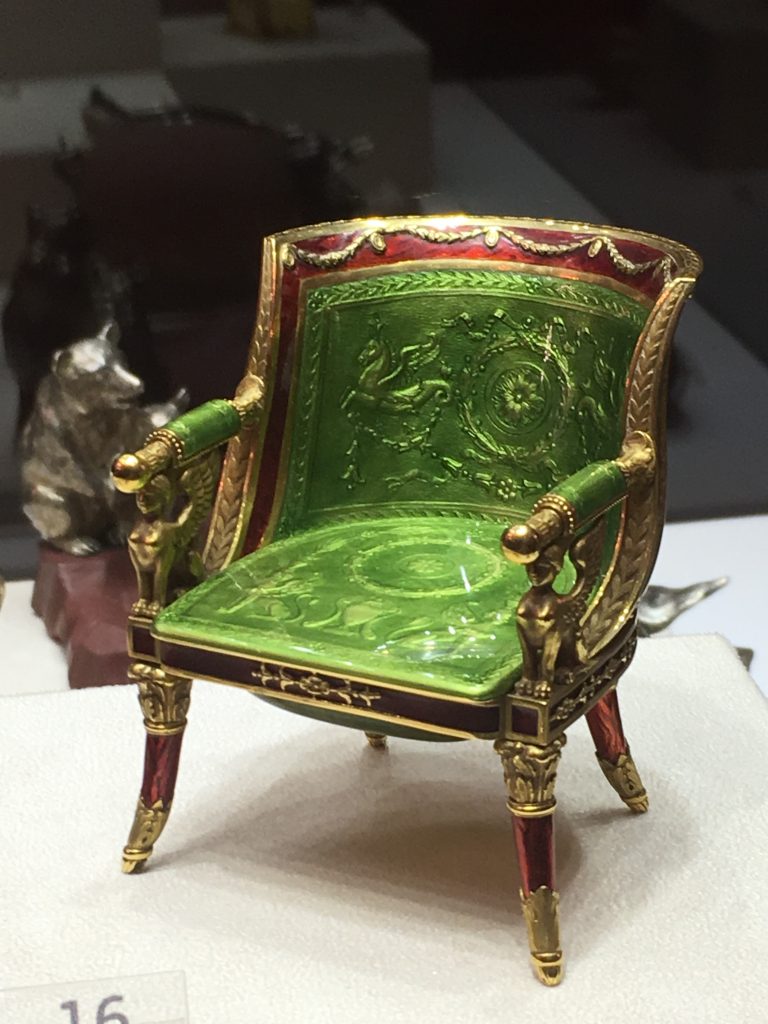 Our journey through the Imperial era of Russia was amazing.  I am glad that the Soviets saw fit to save and even undertake extensive repair of the palaces and churches that were destroyed (70-90%) during WWII.  Hopefully these treasures will remain guarded and enjoyed for many generations to come.